My name is Rebeca Zamora.
I am a sophomore at Bryn Mawr College, double majoring in International Studies and Spanish. I am also a first-generation college student and a first-generation immigrant, which is why I decided to be part of the Big Sisters program and become a role model to other girls who may be in a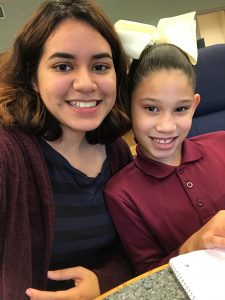 position that was once mine. I know that there were people in my life who motivated me to pursue higher education despite all the difficulties involved – especially the language barrier when I first arrived in the United States – and I wanted to be this person to my little sisters.
I first learned about the program through a blog entry posted on the Bryn Mawr College's main webpage last spring in 2018. I did not think twice about joining and immediately decided to talk to professor Arribas about it. A few months later, I feel that I have embarked on a rewarding journey that I regard as an opportunity to give back the support I once received from people who wanted to see me succeed and achieve my dreams.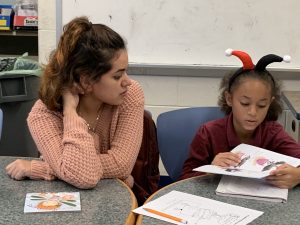 My two sisters, Joliana and Glerielis, are very strong and motivated despite being at a disadvantage with other girls in the group. Although Glerielis is a little behind in reading, this has never stopped her from participating enthusiastically in the program and helping out Joliana, who also struggles with reading and speaking English. Although Glerielis has missed a couple of days, she always comes back with the same energy and the desire to learn more and improve her reading and writing skills. She does not want to give up, and this is something that I admire about her.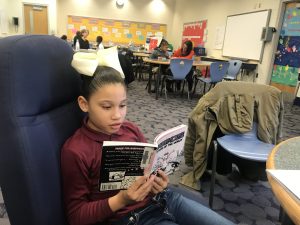 Jolianas's situation is a little bit different: just like me, she is a first-generation immigrant who came from Puerto Rico about two years ago. However, just like Glerielis, Joliana does not let her lack of English proficiency discourage her from participating in our academic activities (reading and writing) even if that means asking her big sister how to spell or pronounce words she is not familiar with. This is what I admire most about my little sisters: neither of them is afraid to ask as many questions as they need, which clearly says that they're both fighters and that they will go above and beyond to achieve what they want.
I see a lot of potential in them, and I am glad I was chosen to be their big sister. By being there for them once a week, I believe I am making a change in their lives and encouraging them to think big about their futures.