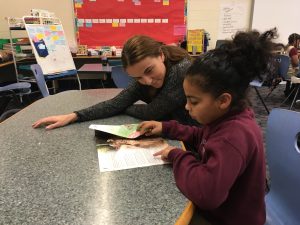 My name is Amanda Moran, I am a junior at Bryn Mawr College. I am also a
McBride student, which means I did not go the traditional student route. I started part-time at the Community College of Philadelphia at the age of 23
and transferred to Bryn Mawr College last fall. I have a background working in biomedical research and a strong passion for the study of genetics. As a
psychology major, I hope to either pursue a PhD in Developmental Psychology or use my well-rounded understanding of development to work with and help adolescents in another way.
One day, last spring, while sitting in my elementary French class, my professor Julien Suaudeau, who is one of the coordinators alongside Inés Arribas, brought up the Big Sisters Program. He told us once a week a group of Bryn Mawr students went to Willard Elementary School in Kensington and mentored third and fourth-grade female students. I was immediately drawn to the program for two reasons: First, as someone who also came from a slightly rough upbringing as well, I owe most of my success to the adults who showed me not just care but consistency. It's an honour to be a part of that for someone else, as it was done for me. Secondly, I have always enjoyed working with children and, as someone who is narrowing down a career path, I wanted to see if working hands-on with children and adolescents would be something I am interested in.
The first week we met our little sisters and did some icebreakers. Samiah and Taniyah probably didn't even need those, they have never been shy, which I enjoy that about them. The last few weeks I have spent one on one time with Samiah. We start off with an icebreaker, and then we read and write for twenty to thirty minutes. Although she gets to pick which book she wants to read, I try and influence her to read about a different subject each week. I do this in an attempt to broaden her interests and knowledge a little more. Last week, we read a book about following rules in class and this week we read a Zoobook (okay, I strongly influenced this one) about turtles. She then writes on a topic given by Teresa, the coordinator of the program at Willard, who is also their guidance counselor. Samiah is an excellent writer and, as evidenced by all the questions she asks, she genuinely cares about her work.
The final and best part of our time together is the free time at the end. Samiah always insists on playing a special form of Jenga, in which each block has a question on it. I can't say exactly what is discussed, because one of the rules set forth by Teresa is that what is said there stays there. I believe that is important, and I think because of it Samiah lets me into her life a little more each week. This past Friday she told me something personal and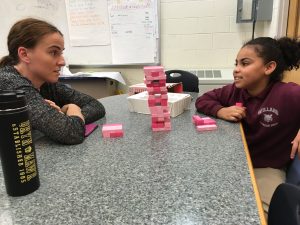 followed it with, "I only tell my best friends that, and well you, because I really like you and I trust you." At the end of each week, we talk about small goals for the next week or anything exciting coming up for her that she will want to tell me about when I see her next. It's a privilege to work with these girls; they have huge hearts and strong potential. I think as big sisters we not only get the chance to give back, but we also have the opportunity to learn more about ourselves personally and academically.